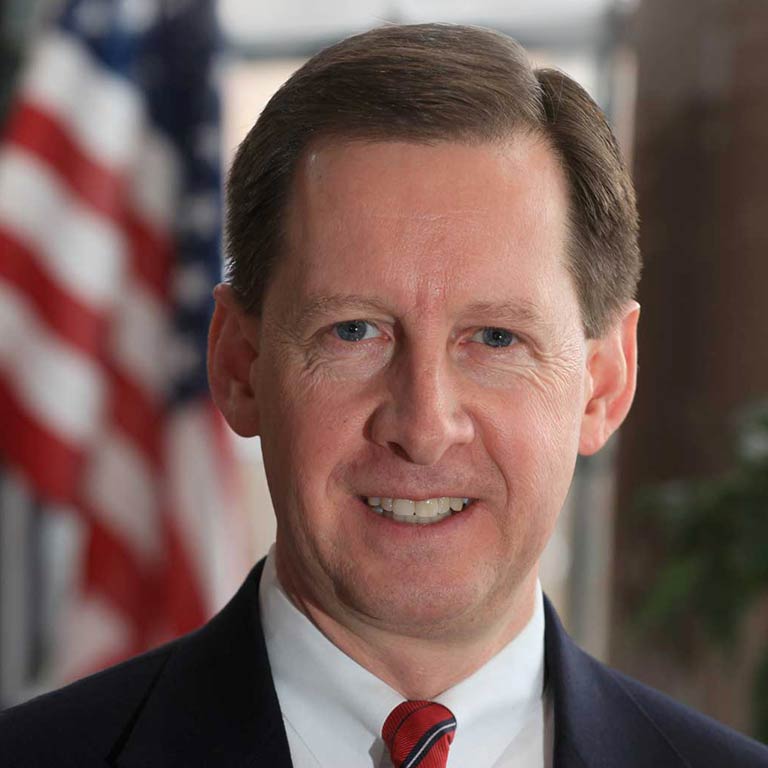 Phone:

812-855-6191

Email:

krwhite@iu.edu
Area:

Economic Development
Bryan Hall 300
107 S. Indiana Avenue

Bloomington,
IN
47405-7000
Biography
Kirk White joined the Office of the Vice President for Government Relations and Economic Engagement in 2010. He is responsible for coordinating:
National defense and homeland security partnerships with state and federal government agencies
IU's mutually beneficial relationships with local government and economic development organizations in southwest Indiana
White holds additional appointments as military liaison for the IU Office of the President and as a member of the IU Emergency Management incident management team.
White joined IU's professional staff in 1984 after completing his Bachelor of Science degree in the Indiana University School of Public and Environmental Affairs. He has served IU in several external, alumni, and government relations assignments, most recently as director of community relations.
Local government work
A former elected official, White served eight years as a member of the Bloomington City Council (1988–95) and one term as Monroe County commissioner (1997–2000). In city and county office he focused on land use planning, improving public works, utilities, public safety, emergency management, animal control, and fleet management. The Association of Indiana Counties awarded Monroe County the 2001 Local Government Cooperation Award for an emergency communications system project that White directed.
Military career
White is a field artillery officer in the Indiana Army National Guard and currently serves as deputy commanding officer of 81st troop command, headquartered in Terre Haute. In 27 years of service, he has been assigned as a battery commander, battalion executive officer, and battalion commander at headquarters, 2nd battalion, 150th field artillery regiment; G5/chief of plans for the 38th infantry division; and S3/operations officer for 81st troop command.
White was called to active duty in support of Operation Enduring Freedom and served as chief of an embedded training team with a light infantry battalion of the Afghanistan National Army (2004–05), where he was awarded the Meritorious Service Medal and Combat Action Badge. He served a second tour in Afghanistan (2009–10) as commander of a provisional task force responsible for base operations and force protection in Kabul and was awarded the Bronze Star Medal.
Additional service
White was appointed by the Indiana Supreme Court as a commissioner on the court's attorney disciplinary commission. He is vice chairman of the church council at First United Methodist Church in Bloomington. White serves on the boards of the Bloomington Chamber of Commerce, Bloomington Economic Development Corporation, and the Boy Scouts of America Hoosier Trails Council. He is past president of the Rotary Club of Bloomington North.
Family
White and his wife Janice have two daughters, Reagan and Jillian.