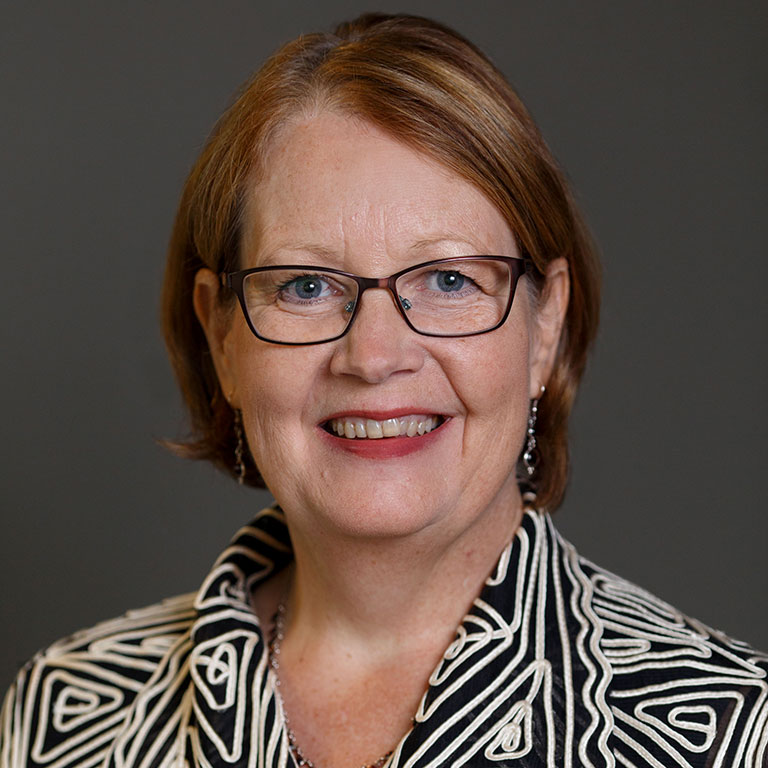 Phone:

765-455-9226

Email:

chightow@iuk.edu
Campus:

IU Kokomo
2300 S. Washington Street

Kokomo,
IN
46902
Cathy Valcke was recently awarded the highest volunteer recognition given by the IU Alumni Association, its President's Award, which honors its most steadfast volunteers.
"I understand the spirit in which this is given, and I'm very humbled and honored," said Valcke, who is currently director of external relations and public affairs.
Chancellor Susan Sciame-Giesecke said the award is well-deserved.
"Cathy has been a loyal alumna and friend to our campus, and a valuable asset in our mission of increasing educational attainment in north central Indiana," said Sciame-Giesecke. "She exemplifies the idea of leading from where you are, as she has worked in her roles on campus to create opportunities for alumni and community members to make and keep connections to IU Kokomo. I am proud of her long-lasting service."
J.T. Forbes, the alumni association's CEO, cited Valcke's community involvement and connections, including serving on the board of directors for the United Way of Howard & Tipton Counties. A 10-year volunteer with that organization, she has been treasurer and chairperson for events, the communications council, and, most recently, the 90th anniversary celebration.
She leads the annual Walk Into My Future event, which brings nearly 2,000 kindergarteners to campus to experience a taste of college life each year, and also is on the advisory board for the Cougar Cupboard, a food pantry that serves the campus community.
Forbes noted that her allegiance goes beyond the Kokomo campus, where she earned a Bachelor of Arts in Humanities.
"Cathy has always been an outspoken advocate for strong alumni relations programs on all of our regional campuses, and is passionate about those relationships," he said.
Benjamin Liechty, director of alumni relations and campus ceremonies, said Valcke's service to IU Kokomo alumni, the campus, and the communities it serves is second to none. She's also been an invaluable mentor to him.
"Cathy epitomizes what happens when alumni work to serve and better their communities and campus," he said. "IU Kokomo is fortunate to have alumni like her, who are always willing to help where needed, and be an example for the next generation of alumni."
She enrolled at IU Kokomo soon after high school, and, over the course of 11 years, completed her undergraduate degree while working full-time. She returned for the alumni relations job in 1998, then became director of human resources, and also was interim vice chancellor for the Office of Advancement and Public Affairs. She accepted her current position in 2014.
Valcke also earned a Master of Science in higher education administration and student affairs from IU.
She received the IU Kokomo Distinguished Service Award in 2012, the Don Lane Service Award in 2003, and the Outstanding Administrator of the Year award in 2000.
"My degrees opened up opportunities that I would not have had otherwise," Valcke said. "My time as a student, and my time working at IU Kokomo has meant a great deal to me. I've spent nearly 25 years of my life here. It's a good chunk of my experience and my life."